I count myself really, really lucky. It's not every day that you get an amazing opportunity literally dropped into your lap. Or inbox.
Last spring, I was fresh off of editing Harriet's Monster Diary when I received an email from David Miles, Familius publishing director at the time. He'd just talked to Harriet lead author Raun Melmed on the phone, who was appreciative of the work I'd done with him and his coauthor on Harriet, and would I like to write future Monster Diary books with him?
Me? An unpublished writer, whose creative writing they'd never even read?
My face must have looked something like this: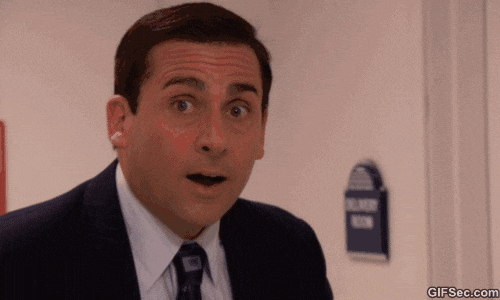 As you can tell, I said yes. Not only had it been a dream of mine from childhood to be a published author, but this is also a series I care about. When I was preparing to edit Harriet's Monster Diary, I also read Marvin's Monster Diary: ADHD Attacks! and Timmy's Monster Diary: Screen Time Stress, the other two books in the series at the time. Despite my inexperience with child development, I knew these books and the tools they taught kids were important. I watched as Marvin, Timmy, and Harriet are empowered to solve their own problems and take control of their feelings and bodies, with guidance and support from trusted adults.
I do strongly believe that kids are resilient and capable, and so I was glad to take part of the messaging of this series.
And even though I am absolutely not an expert on ADHD or other emotional or behavioral challenges children face, I knew that Raun could do the sciencing for me. 😉 All I had to do was write a fun story about anger and ADHD in kids, incorporating the tools Raun teaches his young patients and their parents.
Not to mention that this series is so punny that, with my corny sense of humor, I knew I'd have a blast writing this book. And I did!
You're hopefully brimming with questions, so let's chat Q&A style. And if you have any other Q's I don't cover here, drop them in the comments and I'll happily give my A's!
So what's this book called?
Marvin's Monster Diary 2 (+ Lyssa!): ADHD Emotion Explosion (But I Triumph, Big Time). It's part of the Monster Diary series and is sort of a spinoff series from Marvin the Monster's perspective. (Hence the "2.") We did a cover reveal thanks to Here Wee Read—feast your eyes:
What's the book about?
I can't say it any better (or any more succinctly) than the jacket copy:
Meet Marvin, a lovable monster with a twelve-string baby fang guitar, a rambunctious case of ADHD, emotions that sometimes overwhelm him (and others), and a diary to record it all. While Marvin got it together in Marvin's Monster Diary: ADHD Attacks, his lab partner Lyssa's emotional roller coaster is a bit out of control. Can he help her—and win the Science Scare Fair—before she explodes?
What age group is this book for?
This chapter book series suits ages 7–11 particularly well and would appeal to fans of the Diary of a Wimpy Kid series, with its plentiful hand-drawn illustrations and lighthearted storytelling.
Should I read the other books in the series before reading Marvin's Monster Diary 2?
Not necessarily. I mean, you should read the prequels because they're amazing and fun and important! But you can understand the story in Marvin's Monster Diary 2 just fine if you haven't read the other books. At least, assuming I've done my job right!
You can check out the prequels here if you want to read them. Or see if your local library has them! If it doesn't, ask how to suggest a library purchase. Your library wants to hear from you!
If you're a coauthor, what parts did you write?
The simple answer is that I wrote the story inside an existing world, and Raun wrote the parent/teacher guide in the back. But truly, Raun and former coauthors created Marvin and his world. And writing all parts of this book truly was a team effort, from brainstorming, to outlining, to revising the rough draft, to fine-tune editing, to the final proofread. Raun gave me a lot of creative license but was also helpful in giving his own feedback and edits.
Well? Do Marvin and Lyssa win the Science Scare Fair or not??
Why would I tell you that?! You'll have to find out for yourself!
Fine. When can I get my grabby little hands on this book?
I thought you'd never ask! The book comes out in a few short weeks, on August 1! But you can preorder it now! >>
What else would you like to know? Ask me in the comments below!